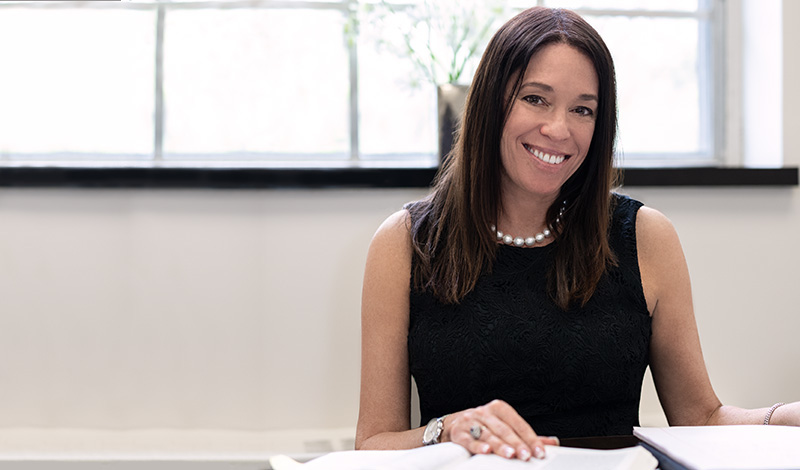 Grandparent and non-parent rights
A GUIDE TO YOUR RIGHTS UNDER CONNECTICUT LAW
By Dori-Ellen S. Feltman, Esq. and Richard G. Kent, Esq.
The purpose of this article is to present a brief overview of the current statutes and case law which govern grandparent visitation rights with their grandchildren in the State of Connecticut, as well as to provide a guideline as to what grandparents can do to prepare for a successful court petition.
The statutory scheme:
The United States Supreme Court has held that the rights of third parties such as grandparents to secure court-ordered visitation with their grandchildren are limited by the rights of fit parents to raise their children free from interference. Troxel v Granville, 530 U.S. 57, 120 S.T. 2054 (2000).
However, Connecticut has a specific statute which addresses third-party visitation rights and provides a framework for the Court to grant visitation to a person other than the parent of the child.
General Statutes § 46b-59 sets forth as follows:
• § 46b-59: "The Superior Court may grant the right of visitation with respect to any minor child or children to any person, upon an application of such person. Such order shall be according to the court's best judgment upon the facts of the case and subject to such conditions and limitations as it deems equitable, provided the grant of such visitation rights shall not be contingent upon any order of financial support by the Court. In making, modifying or terminating such an order, the court shall be guided by the best interest of the child, giving consideration to the wishes of such child if he is of sufficient age and capable of forming an intelligent opinion. Visitation rights granted in accordance with this section shall not be deemed to have created parental rights in the person or persons to whom such visitation rights are granted. The grant of such visitation rights shall not prevent any court of competent jurisdiction from thereafter acting upon the custody of such child, the parental rights with respect to such child or the adoption of such child and nay such court may include in its decree an order terminating such visitation rights.
Following the U.S. Supreme Court's decision in Troxel v Granville, supra, the Connecticut Courts have held that when a third-party such as a grandparent seeks visitation, that party must meet a two prong test in order to secure such visitation rights:
1. The relationship between the third-party and the child is similar to a parent-child relationship; and
2. The denial of visitation would cause real and significant harm to the child.
Roth v Weston, 259 Conn. 202 (2002).
With respect to first prong of the above test, the petition for visitation must contain specific allegations that the grandparent and the child have an ongoing parent-child relationship, such as one "that ordinarily develops as a result of a parent having met on a continuing, day-to-day basis the physical, emotional, moral and educational needs of the child" (see, General Statutes §45a-717(g)(2)(C)).
As to the second prong of the test, the petition for visitation must contain good faith allegations that the denial of visitation rights would cause the child real and substantial harm. The degree of harm requires more than a determination that the visitation would be in the child's best interests, but rather that the child is "neglected, un-cared for or dependent" as defined under General Statutes § 46b-120. See Denardo v Bergamo, 272 Conn. 500 (2005).
General Statutes § 46b-120 contains the following relevant definitions:
• "(4) '[A]bused means that a child or youth (A) has been inflicted with physical injury or injuries other than by accidental means, or (B) has injuries that are at variance with the history given of them, or (C) is in a condition that is the result of maltreatment such as, but not limited to, malnutrition, sexual molestation or exploitation, deprivation of necessities, emotional maltreatment or cruel punishment…(7) a child or youth may be found 'dependent' whose home is an unsuitable one for the child or youth, save for the financial inability of parent, guardian or other person maintaining such home, to provide the specialized care the condition of the child or youth requires…(9) a child or youth may be found 'neglected' who (A) has been abandoned, or (B) is being denied proper care and attention, physically, educationally, emotionally or morally, or (C) is being permitted to live under conditions, circumstances, or associations injuries to the well-being of the child or youth, or (D) has been abused; (10) a child or youth may be found 'uncared for' who is homeless or whose home cannot provide the specialized care that the physical, emotional or mental condition of the child requires…"
What can you do to prepare for a visitation petition?
If your child, or his or her spouse, has terminated normal access to your child, pursue age-appropriate alternative means of communication, such as telephone, e-mail, text-messaging and letters. Offer your son or daughter to meet your grandchild in public places such as a restaurant or the mall. Continue to send your grandchild holiday cards and presents. If appropriate, continue to maintain contact with persons involved in your grandchild's care such as teachers and health care providers.
The most important thing you can do, as best as you can, is to maintain a relationship with your grandchild.
Another very important thing you should do is to document the time spent with your grandchild, such as by keeping a diary or marking it on your calendar. Keep details of your visits, such as if you provided daycare for your grandchild, helped with homework, drove your grandchild to activities, took your grandchild to religious services, cooked him or her meals, took him or her to the doctor, etc. Additionally, keep any correspondence from your grandchild to you, such as birthday cards and letters.
If you believe that your grandchild is being neglected or abused by his or her parents, contact the Connecticut Department of Children and Family Services hotline at 1-800-842-2288. Your report is anonymous, and your concerns will be immediately investigated by a social worker who works for the State. If DCF substantiates a finding of abuse or neglect on behalf of your grandchild, and you can demonstrate that your household will provide your grandchild with stability and care, your visitation petition (or, a custody petition) will be taken very seriously by the Court.
Finally, you should contact a lawyer to discuss your situation, preferable one who specializes in family law and is familiar with third-party visitation rights. In preparation for your consultation, be prepared to discuss the details of your relationship with your grandchild and possible factors which you believe suggest that the denial of your visitation rights puts your grandchild in harm's way.
Contact me for assistance with your grandparents rights matter.
For a consultation regarding grandparents or non-parent rights, please call my office at (203) 557-0557 or complete the contact form on this site. My office is conveniently located at 246 Post Road East in Westport, Connecticut.